Cheick Kongo renou avec la victoire!!! / Cheick Kongo reniew with victory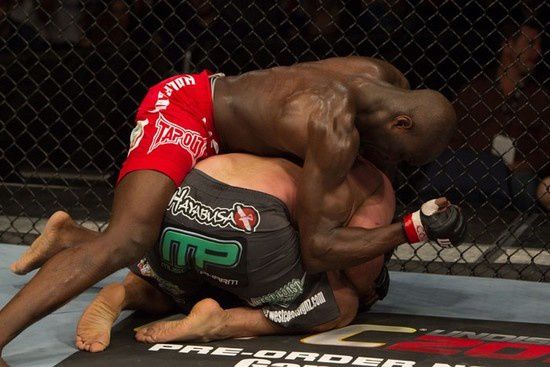 Le 21 Mars 2010 live sur Versus Cheick a défait Paul Buentello par abandon au 3ème round due aux coups de coudes dans la cuisse! Une première dans l'histoire de l'UFC!
Un combat dominer de bout en bout par un Kongo déterminer, malgré un point retirer au 2ème round par Herb Dean a cause d'un coup de genoux illégal au visage Cheick a garder son sang froid et a continuer d'appliquer sont game plan a la perfection: amener Buentello au sol et le punir par une pluie de coups!
On March 21st 2010 live on Versus, Cheick defeated Paul Buentello by tapout in the 3rd round, by viscous elbows to the thigh! Never seen before on the UFC!
A fight ruled from the beginning to the end by a very determined Kongo, even after a point was taken off in the 2nd round by Herb Dean for an illegal knee blow to the head, Cheick kept his composure and continued on his game plan: bringing Buentello onto the floor and punishing him by ground and pound!