Cheick Kongo is born in May 17 1975 in Paris Franc
e He is a professional French heavyweight freefighter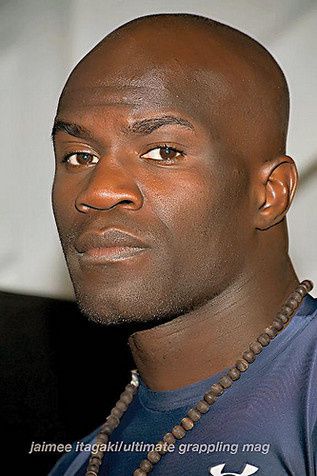 currently under contract with the UFC
Height: 6.4
Weight: 240lbs
Age: 34
Team: Wolsflair MMA Academy
Manager: Anthony Mcgann
Trainer:
Dave J, Zach Light et Flavio Santiago
BEGINNING
Kongo began training in martial arts when he was 5 years old, learning Kendo,Savate french boxe and
Karate As he grew older, he began to expand his repertoire and trained in Muay Thai, Kickboxing and Greco-romaine wrestling. At age 19, he learned of Pencak Silat, an Indonesian martial art, and was coached by Charles Joussot and Franck Roppers
.

PROFESSIONAL CAREER



MMA record



Dates

Record

Result

Opponent

Event

Method



06/13/2009 14-5-1 Loss Cain Velasquez (USA) UFC99 Unanimous decision
04/18/2009 14-4-1 Win Antoni Hardonk (NDL) UFC97 TKO(round 2)
12/27/2009 13-4-1 Win Mostapha Al Turk (UK) UFC92 TKO(round1)
08/09/2008 12-4-1 Win Dan Evensen (NOR) UFC87 TKO(round1)
03/01/2008 11-4-1 Loss Heath Herring (USA) UFC82 Split decision
09/08/2007 11-3-1 Win Mirko "CRO COP"(CRO) UFC75 Unanimous decision
04/21/2007 10-3-1 Win Assuerio Silva (BRA) UFC70 Majority decision
10/14/2006 9-3-1 Loss Carmelo Marrero(USA) UFC64 Split decision
08/26/2006 9-2-1 Win Christian Wellisch(HUN) UFC62 KO(round1)
07/08/2006 8-2-1 Win Gilbert Aldana (USA) UFC61 TKO(round1)
12/11/2006 7-2-1 Win Dave Dalgliesh (NDL) RINGS TKO(round2)
06/04/2005 6-2-1 Win Gabor Nemeth (HUN) King of TKO(round2)
the Ring
05/20/2004 5-2-1 Loss Gilbert Yvel (NDL) It's showtime TKO(round2)
04/04/2004 5-1-1 Win Joop Kasteel (NDL) RINGS KO(round1)
09/27/2003 4-1-1 Win Dave Vader (NDL) RINGS Decision
06/08/2003 3-1-1 Win Hans Nijman (NDL) It's showtime Submission (Arm bar)
09/29/2002 2-1-1 Draw Michael Knaap (NDL) It's showtime Draw
06/02/2002 2-1 Loss Rodney Faverus (NDL) RINGS Decision
12/02/2001 2-0 Win Dave Van Der Veen (NDL) RINGS TKO
06/10/2001 1-0 Win Andre Tete (NDL) RINGS KO(round2)
MUAY THAI record

14 victories 1 defeat


TITLE EARN


- 2005 King of the Colosseum tournament champion
- 2005 Rings World champion
- 2004 King of the Ring super heavyweight champion
- 2004 Muay Thai World champion
- 2003 Intercontinental Muay Thai champion
- 2002 Rings European champion
- 2001 Rings European vice champion


OBJECTIF FOR 2010


Earn the title of UFC Heavyweight champion!!!

Cheick Kongo is born in May 17 1975 in Paris France
He is a professional French heavyweight freefighter currently under contract with the UFC