Cheick Kongo est ne le 17 Mai 1975 a Paris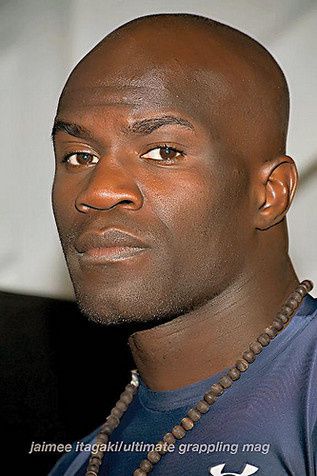 Il est freefighter dans la categorie poids-lours actuellement sous contrat avec l'UFC
.

Taille: 1,93m
Poids: 109kg
Age: 34 ans
Team: Wolsfair MMA Academy
Manager: Anthony Mcgann
Entraîneur: Dave J,Zack light et Flavio Santiago


DEBUT
Cheick débute les sports de combat à l'âge de 5 ans, apprenant le Kendo, la boxe Française et le Karaté.
En grandissant il étend son répertoire en apprenant le Muay Thai, Kick Boxing et un peu de lutte gréco-romaine.
A l'âge de 19 ans il apprend le Pencak Silat, un art martial Indonesien, et est coaché par Charles Joussot et Franck Roppers.
Dates
Palmarès
Résultat
Adversaire
Tournoi
Decisions

06/13/2009 14-5-1 Défaite Cain Velasquez (USA) UFC99 décision unanime
04/18/2009 14-4-1 Victoire Antoni Hardonk (NDL) UFC97 TKO (round 2)
12/27/2009 13-4-1 Victoire Mostapha Al Turk (UK) UFC92 TKO (round1)
08/09/2008 12-4-1 Victoire Dan Evensen (NOR) UFC87 TKO (round1)
03/01/2008 11-4-1 Défaite Heath Herring (USA) UFC82 décision partagée
09/08/2007 11-3-1 Victoire Mirko "CRO COP"(CRO) UFC75 décision unanime
04/21/2007 10-3-1 Victoire Assuerio Silva (BRA) UFC70 décision a la majorité
10/14/2006 9-3-1 Défaite Carmelo Marrero(USA) UFC64 décision partagée
08/26/2006 9-2-1 Victoire Christian Wellisch(HUN) UFC62 KO (round1)
07/08/2006 8-2-1 Victoire Gilbert Aldana (USA) UFC61 TKO (round1)
12/11/2006 7-2-1 Victoire Dave Dalgliesh (NDL) RINGS TKO (round2)
06/04/2005 6-2-1 Victoire Gabor Nemeth (HUN) King of TKO (round2)
the Ring
05/20/2004 5-2-1 Défaite Gilbert Yvel (NDL) It's shotime TKO( round2)
04/04/2004 5-1-1 Victoire Joop Kasteel (NDL) RINGS KO (round1)
09/27/2003 4-1-1 Victoire Dave Vader (NDL) RINGS Decision
06/08/2003 3-1-1 Victoire Hans Nijman (NDL) It's shotime Soumission (clé de bras)
09/29/2002 2-1-1 Égalité Michael Knaap (NDL) It's shotime Égalité
06/02/2002 2-1 Défaite Rodney Faverus (NDL) RINGS Décision
12/02/2001 2-0 Victoire Dave Van Der Veen (NDL) RINGS TKO
06/10/2001 1-0 Victoire Andre Tete (NDL) RINGS KO(round2)


Palmarès MUAY THAI
14 victoires 1 défaite


TITRES


- 2005 King of the Colosseum tournament champion
- 2005 Rings champion du Monde
- 2004 King of the Ring super poids lourd champion
- 2004 Muay Thai champion du Monde
- 2003 Intercontinental Muay Thai champion
- 2002 Rings champion d'Europe
- 2001 Rings vice champion d'Europe


OBJECTIF FOR 2010
Etre champion poids lourds de l'UFC!!!